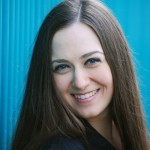 Dialogues des Carmélites has been such a wonderful experience for me and working with David Agler and Judith Forst is a valuable opportunity. I am playing the role of Mother Marie. It was interesting researching the historical background of the life of Mother Marie. She was of noble birth and married a noble man. Her husband was exiled and she eventually became a widow. It was at that time she and her three daughters entered the convent together.
I have the luxury of seeing this opera from two different perspectives. The first being performing onstage, and the second working behind the scenes in the costume shop. Seeing a production come together has always fascinated me. It is a long process getting a performer ready in their costume. First, I schedule everyone to come into the costume shop so we can take their measurements. Next, myself along with the other costume work studies and our costume intern have the opera ensemble members come in and try on a costume we have chosen for them. Sometimes the costume works and other times it is a trial and error process. After we have chosen their costume, alterations need to take place before the final product is ready. Once we get going with our dress rehearsals, we then take notes during our first few runs. At this time we may notice if any further alterations or adaptations need to be made. We may find that we want to change someone's costume because we simply do not like the way it looks onstage. Nancy Hermiston helps us in the entire costume process.
Working behind the scenes is something I feel every performer should experience. Many people do not realize the amount of hours it takes to put on a production. This behind the scenes work aids students in preparation for the professional world. I find students have more respect when they realize how much work is involved. Come and support the UBC Opera Ensemble's production. This is an opera you do not want to miss!
-Francesca Corrado