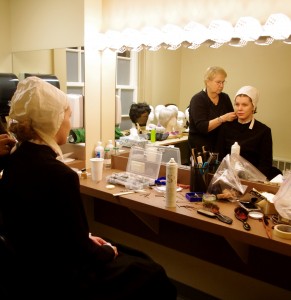 EMILY WILKERSON —Have you ever wondered what is would be like to get backstage pass to one of our shows? Here is a sneak peak into just some of the things that are happening as we get ready for our run starting November 10.
All our performers are given set times to be at the theatre in order to get their hair and makeup done. These calls begin as early as 1:30 for a 4:00 dress rehearsal. All our costumes hang labeled and organized in our dressing rooms, where individual places and lists have been set and provided for us naming all the items we need to where and when. Our costume department has been working very hard for the past three months in order to make everyone look their best. UBC has a wonderful assortment of costumes in our shop, but we often have to borrow or rent costumes as well. Every singer, whether a lead or chorus member, has a costume specifically chosen for them, including head pieces and shoes. Once we are fitted to a costume, our wonderful costume designer Pat Smith, and volunteer students of the program work endlessly to hem, cut, iron and steam. There are so many of us in the ensemble so every person's hour of help counts.
Our makeup team is amazing. Many characters in The Crucible are older, some in their 40's and some in their 60's, like Rebecca Nurse. The students playing these characters are of course young university students, so the Carmen and Elke use makeup and wigs to make them look their age. On stage, it looks exactly like an older man or woman is playing the role, especially when the singers add the physicalization to make their character truly believable.
Once our team is looking great, it is time to mentally prepare for being on stage. Many singers like to warm up before they get their makeup and hair done. And though we singers are a talkative bunch, many of us like to have a quiet moment backstage to prepare ourselves for the show.
Finally, The tech team gives us calls through our speaker system to let us now how much time we have to the top of the show, and during the show, gives each character a call up to the stage before they have to go on. Without our tech team behind the stage and in the sound booth, the opera would not be possible. The light, curtain, moving sets all need a specific person put them where they need to be.
As the curtain finally opens for the first act, everyone waits in anticipation, both excited and nervous, to put on one of the greatest operas that we will always remember. I am so excited to be playing Mary Warren along with Eden Tremayne. Each character in this opera is important and individually adds depth and moves along the story. Dr. Ward's music is truly breath taking, always enhancing the emotions of the characters. It is going to be a great show! But for now, off to the rehearsal!